5 Factors to Consider While Looking for the Best Battery for Inverter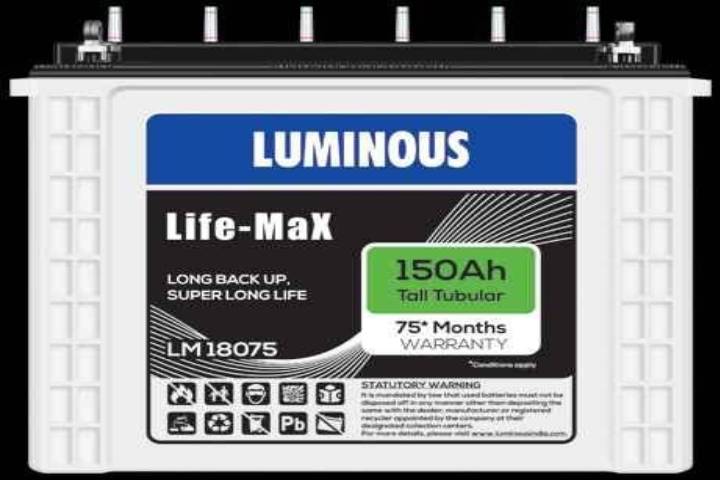 Are you confused about how to choose the right battery for your inverter? If you're trying to find the best battery for inverter, there are a few important factors that you should consider. Inverter batteries come in different prices. Factors such as capacity, design, structure, and chemical composition determine the price.
Here is a detailed guide to help you understand the important factors that one must consider to select the best battery for inverter:
1. Types of Battery
There are numerous types of batteries available in the market. Here are some of them:
Lead Acid Batteries
It consists of an electrolyte. It is one of the most economical and reliable inverter battery. Lead acid batteries are also available in the following types:
If you wish to get an uninterrupted supply of electricity during frequent power outages, flat plate range is ideal for you. They are lightweight, hence easy to carry and store. Additionally, the thick plates ensure the longer lifespan of the device. Flat plate batteries are also economical and environment friendly. They require less charging time and are highly efficient.
Tubular range batteries are preferred more in locations that face long power cuts. It is the best battery for inverter that supports faster charge recovery after every discharge, ensuring an optimal performance. They also offer longer lifespan and efficient backup time.
With minimal maintenance required, gel battery is the best battery for inverter. This type of battery offers zero spillage risk. In addition to this, no top-up is required here which saves you time and efforts. Gel based batteries are also environment friendly as the emission of gases is extremely low. It is another cost-effective battery because of its low maintenance costs.
2. Battery Capacity
Energy stored in the battery can be determined by its capacity and is expressed in Ah or Ampere hours. Batteries are available below the capacity of 150Ah, 150Ah-180 Ah, and above 180Ah.
One must calculate the power requirements of their appliances and then choose a battery accordingly.
It is advisable that the inverters and batteries should be used to power the compatible appliances only. Overloading the battery with power beyond its capacity can damage its functionality.
3. Backup time
Backup time is the duration for which your inverter can supply the output in case of a power outage. If you face long and frequent power cuts, you should go for a battery that provides longer backup time.
A fully charged battery can usually give a backup time of about 5-10 hours. However, the accurate backup time of the best battery for inverter can be calculated using a simple formula.
4. Warranty period
Inverter batteries usually have a warranty period of 24-75 months. In combo deals, the warranty period of inverter varies from that of the battery.
Battery 150 Ah – LM18075 presented by Luminous offers a warranty period of 75* months. It is a tall tubular battery that exhibits corrosion-resistant property. It offers a high durability and a longer backup time.
5. Maintenance Required
According to the composition of batteries, the maintenance required is variable in different batteries. For example, topping up with distilled water is required in the batteries with electrolytes. However, the maintenance required for gel range batteries is minimal. Hence, maintenance varies according to the composition and structure of the battery.
Battery 150 Ah – LM18075 by Luminous is another excellent option that has a capacity of 150 Ah. The battery comes with a better charge acceptance and a longer lifespan due to a flexible oxidation-resistant gauntlet. It is best recommended for the areas that face long and frequent power cuts.
Also Read: Quantum Computing What It Is And 7 Ways It Helps Businesses