Comparium: Automated Website Testing Tool

Are you a business owner? Do you have a website? Do you want to test on several browsers? If your answer is yes, then you should conduct the website testing procedure with the use of Comparium. It will help you identify whether the site is compatible with the various browsers which have no bugs. This tool has come out to be a perfect and famous tool to utilize.
Web testing is the process through which software and website are tested on an in-depth scale thereby any potential source or known source of vulnerabilities as well as bugs can be determined. In this blog post, we will explore a comprehensive Comparium review which is one of the best cross-browsing testing website tools which have helped us to review our website as well.
This is compatible with multiple OS as well as browsers:
OS:
• Windows
• Linux
• High Sierra
• Mac OS X Mojave
Browsers
It means you may not require limiting yourself to the website design. It does not matter which browser or OS you are utilizing, this tool can test the performance of your website.
This is used by popular website designers and developers. This epic tool is multifunctional and offers a wide range of amazing features. It includes the apps and tools that are needed for web testing on multiple OS as well as the browser.
A few codes, as well as combinations, are put in to build the site run. Commonly, a Comparium website testing tool has to test each of these mixtures individually to make sure that no bugs or errors found. On top of that, this tool has made it possible to check all codes as well as combinations at a single time at a single portal.
Why To Choose a Comparium Tool?
Here are the main reasons to use this incredible tool.
This is free as of now.
With Comparium, you attain compatibility across multiple versions and its browsers.
The user-interface of the service is quick as well as simple.
It provides both Online and Offline Report
With this tool, you may not require to wait for the web page's screenshots. As a business website owner, you have to enter your website URL as well as email addresses. After the Comparium process is accomplished, you will get the screenshots of your website.
In a nutshell, Comparium is an incredible website testing tool in today's market. Additionally, it has made web testing simpler as well as convenient. Many commercial companies are using this tool for managing the errors as well as threats on their sites.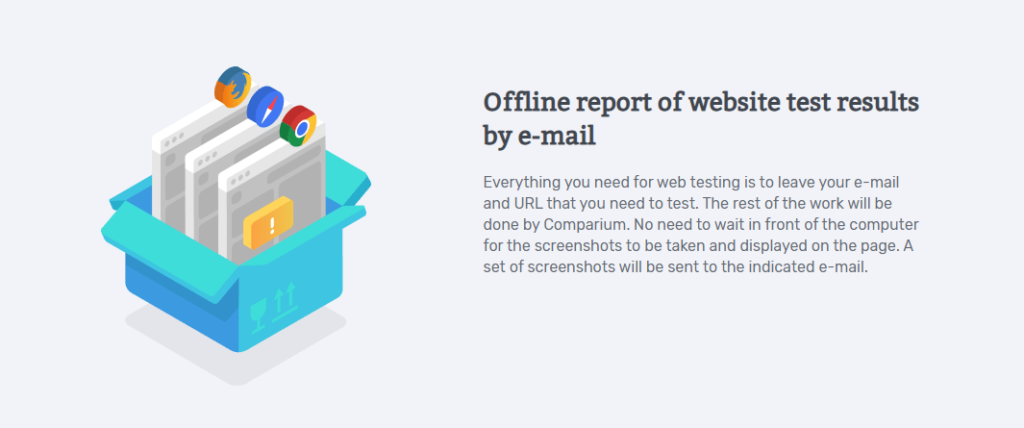 You will be surprised to know that there are several updates of Comparium is coming in the pipeline.
In short, this tool focuses on usability and reliability. You can save your time as well as money by using it regularly.
Also Read : All You Need To Know About In-House Web Archiving