Developing Custom HR Management Software: Features to Costs, Everything You Need to Know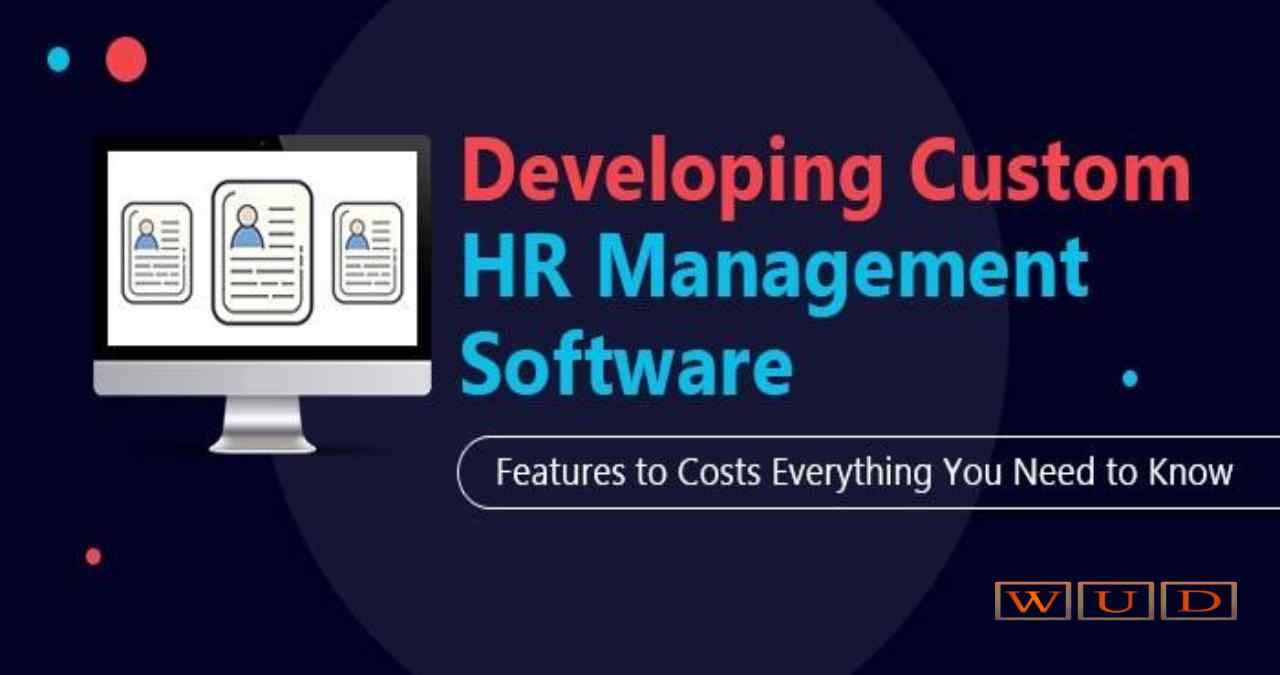 The most valuable asset in any organization is its human resource. Managing and dealing with the employees is the primary and the most critical task of the HR department and executives. With the industrial revolution, the way these resources are perceived and dealt with has transformed immensely. Now, the process of recruiting, managing, training, hiring the workforce has undergone a great change. Of course, to handle the entire processes and ensure proper organization, HR departments were once divided into small units with each responsible for a particular task.
Now, these small manageable units have been replaced by Human Resource Management Software, a unified platform that compiles all the tasks and streamlines the entire workforce management processes. There was a time when HRMS software was confined to being a simple portal to archive data. With constant technological evolution and advancements, it has become indispensable. Considering the rise of remote working, companies have also increased their requests for HRMS software development. It is a comprehensive solution that includes several modules, such as payroll management, compliance management, monitoring the work, employee benefits services, evaluating the performance of employees, recruitment & onboarding, etc. The software stores all the required data so HR managers can retrieve any piece of information at any time effortlessly. It also eliminates paper-based tasks, reduces manual and costly errors, and also boosts productivity.
Before you opt for HR management software for your enterprise, let's take a look at all the important factors that you must know.
Significant Features of HRMS Software
An all-inclusive Human Resource Software offers most functionalities through a wide range of modules. You might have to purchase some of them individually while others are included in the software. So, we'll discuss these modules or features in detail that make HRMS an asset for companies:
Central Employee Database
This is a key module with a centralized employee database containing all information like a proper employee profile. The data includes names, address, job roles, salaries, job history, performance evaluation, date of hire, certifications, awards, along with other personal details. The software stores the information in an interactive database, making it hassle-free to retrieve any data by the managers whenever required for scheduling, tracking, and documentation. Any changes in one document are reflected across the board that ensures up-to-date information all the time. Many software supports self-service so employees can create their own profiles, add their personal details, access history, enroll in different plans, send requests, etc.
Training Management
Constant skill development and training are important for employees and the company for enhanced productivity and efficiency. Hence, organizations have to invest in various training programs, workshops, and educational events. While organizing these training sessions for the workforce, HR managers have to strategize well to manage the process and ensure that several specialists and teams enroll in the right programs. HCM software solutions streamline training management processes through an automated platform. Managers can create a list of events, send invites to employees, notify them about upcoming tests, and track their progress throughout. It is also helpful in remote learning to ensure that employees acquire skills according to the trends in the industry.
Recruitment and Onboarding
Hiring and onboarding is a significant process but it is too complicated and daunting to do manually. HRMS makes it simple by creating a robust database and ads, posting job vacancies on social media portals and other websites, and managing resumes. It scrutinizes all the applicants and selects the best ones based on skills, experience, and qualifications. It allows hiring managers to recruit and track candidates and their information while also assisting in the interviewing process. The HR software also enables digital onboarding where all the formalities and signatures are completed online.
Performance Tracking
With the performance tracking module, companies can improve the overall efficiency of the workforce and focus on honing the skills of individual employees. Managers can track the performance of team members to review their work, motivate them, and find pitfalls. Employees can set their daily goals, review their progress, see future growth opportunities, enroll in training programs, etc.
Benefits Administration
Apart from paid leaves, indirect compensation, etc., companies also offer additional employee benefits to increase retention rate and motivate their employees. This module of the software conveys all the details about benefits plans to the workforce, such as medical benefits, 401(k), insurance, and more. The tool automatically assigns employees to the right plan and shares the necessary information on a single portal.
Payroll Management
The payroll management feature administers and manages all the details regarding salaries, bonuses, deductions, compensations, provident funds, benefits, and taxes. By integrating it with a time tracking and scheduling module, it accurately calculates the right salaries of employees, generates reports, and sends payroll stubs electronically within the stipulated time.
Employee Self-Help
Through this feature, employees feel more engaged and responsible in an organization. They can handle their records, personal information, and have access to make the changes whenever required. The employees can keep the data accurate and up-to-date and also submit leave requests, early time-offs, communicate with colleagues, and review their schedules easily.
Time and Attendance
This module marks the daily attendance of employees while tracking their leaves and total working hours. The managers can look at the attendance and overtime of every team member. It includes features, such as timesheets, biometric login/logoff, leaves approvals, and mobile or web accessibility.
Reporting & Analytics
HR managers and executives need to review the performance of employees every now and then. Hence, HRMS software prepares regular reports for each individual employee and also as a whole so that managers can analyze the data and determine the area of improvement.
Document Management
To manage all the workforce documents by individual names, the HR management software includes a document management module. These documents can be easily converted into PDF or other formats or can be used in other applications.
Cost to Build an HR Management Software
Most HRMS vendors follow two pricing models – subscription hosting plan or cloud and perpetual or on-premise. The former is referred to as when the vendor hosts the software on the server. It is popularly known as SaaS (Software-as-a-Service) and the company pays monthly or annual subscription fee. The option is beneficial if you don't want to deal with hosting and maintaining the data. In the latter model, the company itself hosts the data on its servers and pays for the software. It is highly recommended for businesses with data security concerns and complex needs.
Talking about software development, the pricing structure varied based on the features, technology stack, support services, training needs, implementation plan, etc. The team involved in the development process, UI/UX development, quality assurance services, number of team members also affect the total cost of the development. It starts from $45 per hour to $230 per hour.
Building a seamless and efficient HRMS platform requires a lot of time and effort and the result is worth every penny you invest. You not only address all the challenges of HR processes but also reap many benefits. So, are you planning to make a smart investment in the HRMS? Then it is the right time!