E-Commerce Trends 2023 – Breaking New Ground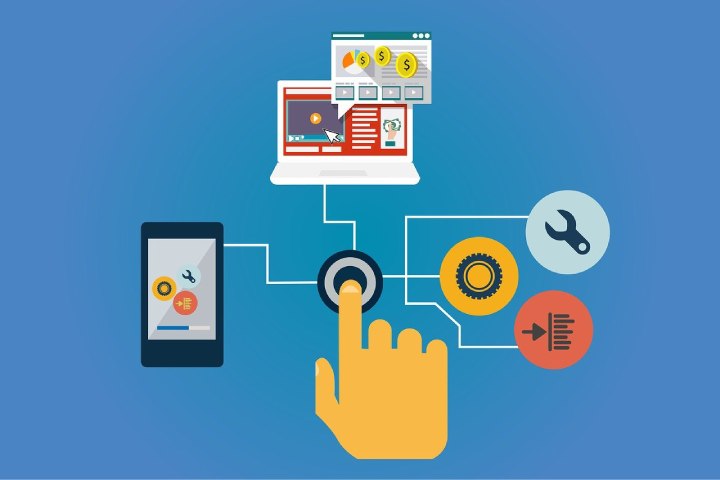 In the wide space of the Internet, numerous companies have attractive services and products. Therefore, it is all the more important that your company stands out and convinces new and existing customers. But what if the competition doesn't sleep? In the coming year, attractive trends are also emerging in the area of ​​e-commerce, which could perhaps also be advantageous for your company. Small changes or tactical decisions can often have an enormous impact. Find out in our new magazine article which trends you can expect in the coming year.
E-commerce Trends: What To Expect!
Score with social commerce
Use the power of social media! Social networks are and will remain important in the coming year. If you want to reach your customers as quickly as possible, these platforms are particularly suitable for advertising your products and services. Even more, since it has also been possible to shop via social media (keyword: social commerce), you enable your customers to get things done quickly and easily.
Small influencers have a big impact!
Another decisive advantage social networks have in store for your online shop is influencers! In doing so, in 2023, you should rather direct your gaze away from the "big" celebrities towards the "small" influencers. Keywords: micro-influencer campaigns . It can be a significant advantage if you rely on the trustworthiness of influencers with fewer followers. Why? The proximity to their followers now often radiates significantly more seriousness and authenticity.
More satisfaction thanks to instant payment
In 2023, it is worthwhile to deal even more with instant payment to encourage the receipt of order processes. The principle is very simple: if you make the ordering process easier for your customers with uncomplicated order processing, this increases the usability of your online shop and thus ensures greater customer satisfaction. Decisive for this is a fast payment option, e.g., via instant payment. This is a transfer in real-time. The recipient receives the payment in his account in a maximum of 20 seconds. Big advantage: a faster shipping process is promoted!
Go Green!
Would you like a look into the countryside? The topic of sustainability will continue in 2023. Consumers are paying more and more attention to how environmentally conscious a company is and how sustainable its products are. If you are attentive here, you can actively react to the new shopping habits of consumers with the right strategy. The possibilities are numerous, whether it's climate-neutral shipping, donations to charities, or sustainable products. But be careful; the line between practiced sustainability and clumsy greenwashing is often narrow. If you want to take advantage of this trend, you should be one thing above all else: authentic.
Mobile shopping is an important gateway for e-commerce.
Rely on the availability of your customers! The mobile phone is and will remain an important tool. Keyword: mobile commerce! No matter where your customers are, the mobile phone is always ready to hand and in use. It is advisable to optimize your website for mobile devices and thus simplify the shopping experience for your customers. This trend is subject to growth and is essential for your smart e-commerce strategy.
Immerse yourself in product worlds – with augmented reality.
Another trend in the e-commerce world is "Augmented Reality." This includes the virtual representation of products in reality. The camera, for example, is useful because it combines analog and digital life. Consumers get a better insight into the advertised product world. This simplifies sometimes time-consuming visits to brick-and-mortar retail. Cosmetics can, e.g., B. tried out, glasses can be tried on, or furniture can be placed on the premises virtually! The desired product is thus tested in advance so that a safe purchase decision is made. This so-called "augmented reality" on your website gives you the advantage of counteracting returns.
Chatbots, yes, please!
At first, contact with them seems strange, but the trend to use them is growing all the time: chatbots. This innovative way of solving consumer problems is constantly growing. The user experience shows that consumers react positively when problems are solved, regardless of whether a bot or a human responds. In addition, a return of products can be counteracted quickly and efficiently.
Better purchase recommendations thanks to AI
The importance of artificial intelligence and its performance is growing every year. Clever algorithms allow customers to be better analyzed. Purchase recommendations are based on this, which in turn can have a beneficial effect on your sales. Because not only the shopping behavior is examined but also factors such as search history or gender are included, the search for products can be fine-tuned even more. Your customers, on the other hand, are happier thanks to the successful shopping experience.
Visual Commerce
In contrast to voice input, where visualization plays a secondary role, the importance of images increases in visual commerce. Numerous online shops market their products by capturing them in attractive images or videos. The upcoming trend is 360-degree product views. Another trend in this area is the optimization of visual search. This enables consumers to find the product they want using photos or screenshots.
Voice Shopping: Shop with Alexa or Siri
Voice search is becoming more and more integrated into everyday life. There is a growing trend towards ordering processes, for example, in ​​groceries or household goods, made only by voice input (so-called voice shopping). With the help of Alexa, Siri, and Co., the visual aspect of your product marketing is supplemented by strong auditory marketing. Although the effort involved in configuring voice search is significantly higher at the beginning, in the long term, there are opportunities to address users in an even more targeted manner.
Value-Based Audience Management
A company or a brand is more efficient in the long term if a base of existing customers is formed. However, more than concentrating on the size and behavior of your target group is required. Therefore, value-based analysis is a good tool for audience research. This focuses on the target group that generates the most value, regardless of their size, to retain the customers who generate the most revenue for the company in the long term.
The exceptional shopping experience in times of global recession
In a difficult economic situation, companies must adapt their offer to the customers' wishes in a more targeted manner. During a global recession, it is therefore important to offer customers an exceptional shopping experience to buy anything at all. For example, it makes sense to simplify returns procedures, optimize customer service or link online channels with physical stores.
Also Read: Use This eCommerce Advice to Grow Your Online Business
Conclusion
The e-commerce trends for the coming year are promising. In particular, these are technical advances that can increasingly affect the everyday life of your company over time. This includes trends such as social commerce or instant payment, which are becoming increasingly important as they develop. The trends mentioned also provide an overview of various starting points that could be relevant for your company. However, a critical examination of the various trends is advantageous, especially regarding options such as augmented reality or voice shopping. The implementation here is usually much more expensive. Overall, all e-commerce trends for 2023 are a foretaste of the years to come.