How To Create An Order Form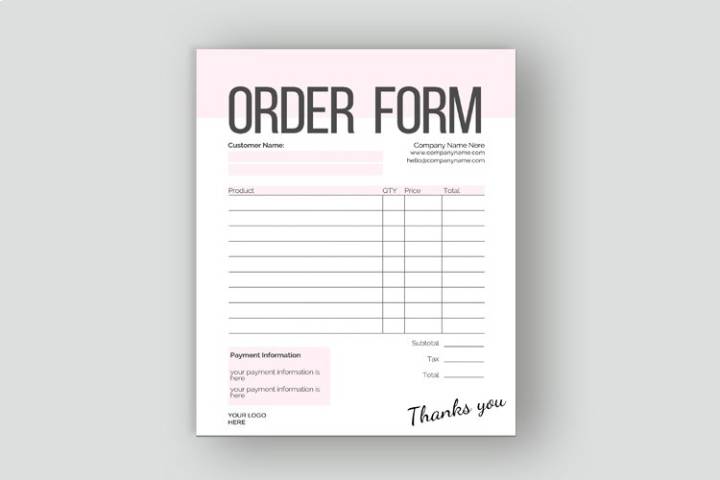 Running an online business – and almost any business these days – requires the option for customers to easily place orders online. Consumers expect a simple process to facilitate their efforts. However, in the cases where a simple "add to cart" is not possible and additional data is required to be set up, things can get complicated.
If companies don't provide their potential customers with a clear and efficient way to place orders, they risk losing the market share. Most companies rely on online order forms that are functional and guarantee a high-quality and efficient experience.
What the order form is like
An order form is a document that describes requests for products or services. Such forms are also used as service request forms that indicate everything that needs to be fulfilled.
To make sure that the order form sample meets all requirements, it should incorporate several important elements, including the following:
Company logo and full name.
Contact information.
Information field that includes product codes, descriptions, images, unit prices, etc.
Payment information, which includes the total amount, taxes, fees, and applicable discounts.
Date of request along with any approval/disapproval.
Agreement validated by the signatures of all participants, such as sellers, executives, and buyers.
How an order form template can attract more potential customers
When offering an outstanding product, you should be conscious of your reputation, reaffirming it with positive reviews and by using various forms of generation. In this case, online forms have some significant advantages, including the following:
They guarantee the necessary connection between the customer and your company.
They provide automatic data verification. You don't have to worry about mistakes or missing important information, which greatly reduces the time for both parties and speeds up order processing.
Digital signatures do not need printing, which then eliminates the need for paper.
Online forms work automatically, so customers can place their order at any time.
Customers can connect to any databases and internal systems, reducing the scope of data entry.
Automated calculations also help reduce the amount of effort and the number of possible errors.
Whether or not to use a sample for drafting the order form
Order forms are usually relatively uncomplicated and straightforward documents. Since your company probably needs several simple order form options, often with minor differences for different customers and product categories, it's actually a good idea to use a sample of the order form.
Generation of a sample can be the easiest, fastest, and most seamless process possible if you take advantage of the advanced technologies. PandaDoc, an American company, has developed a unique automated document management platform. Simply download the template provided by PandaDoc and get started. The document is fully customizable and includes a diverse set of input fields, including space for customer signatures. You can also use the order form builder, which is designed to accept payments, optimize your workflow, and gain access to even more customization options.
The software dynamically replicates the necessary information to the delivery address, calculates totals, fills in mandatory fields, and verifies all data. The mere ability to refer the right person without manual intervention reduces time losses significantly and accelerates the process. You can share the PandaDoc form via a direct link or embed it on your website – there is no coding required.