Top Automation Hacks That Ruled The Remote Working Era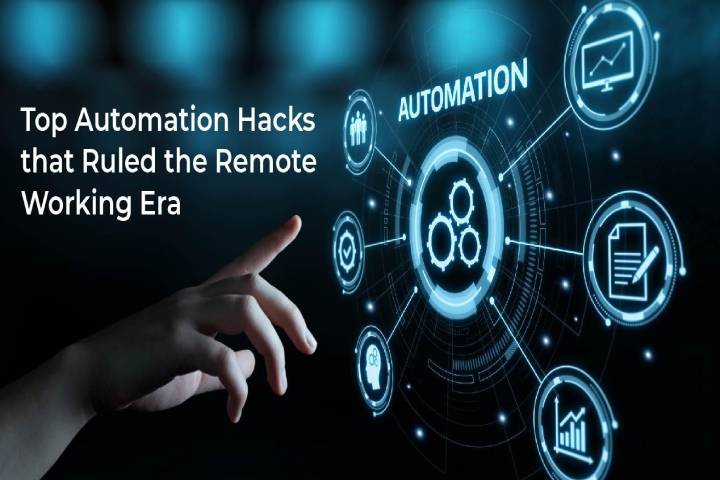 Working from home can be a real challenge, especially for teams that aren't accustomed to doing so. Some professionals might feel like Alice in wonderland. But, on a serious note, even if it is not exactly this extreme, it should never be taken lightly. With the correct work-from-home strategies, tools, and mindset, you can do wonders. For a handful of the staff, they have proudly struck the perfect balance between their work and personal life, thanks to hero technologies like automation. So, let's go through some of the finest work-from-home hacks to make your work-at-home experience more manageable and productive.
Having more freedom and a more flexible schedule might be a fantastic opportunity. However, distractions and a lack of supervision can snap away from your productivity if you're not careful. And, technology is turning out to be a great friend helping you ace this task.
Let's investigate some automation tricks to not miss out on during your work from home days:
Automate as Much as You Can
Automation is becoming increasingly prevalent, and workers everywhere can benefit from it.
Repetitive, low-priority jobs that don't require a human touch are generally the biggest drains on time and productivity. Filtering emails, updating databases, and approving time-off requests or travel expenses are just a few examples of tasks that might be automated to save time.
Higher-level jobs can be automated to some extent in some industries, such as marketing. However, even if complete automation isn't achievable, adopting a procedure to streamline common chores can significantly boost productivity.
So, whether you're a freelancer, telecommuter, or small business owner, following a few easy methods to establish a productive working environment is critical. In addition, while working remotely, these tricks, techniques, and methods might help you stay on track and healthy.
Ascertain that the Tools are Well Supported
Nothing is more frustrating than discovering a dream gadget that would make your life so much easier, only to discover that it isn't operating properly.
And if that tool doesn't come with decent customer care, you're spending even more time: first, because the tool doesn't work, and second because you have to spend extra time troubleshooting because of terrible customer service. And, ITSM plays a crucial role in this, assuring on-time service.
Connecting Diverse Platforms Effortlessly
Bots are used to connect diverse platforms and apps without requiring any coding or APIs, allowing for the smooth transmission of business-critical data across teams and clients. This way it ensures that the appropriate information reaches the right people at the right time.
Tracking Employee Productivity and Deliverable
Bots allow easy tracking of employees' progress across different projects, manage their events calendar, attach relevant files, and securely share all critical data within the team. This is one of the best examples of human-bot symbiosis where technologies are bridging the gap between the team and their project heads.
Logging Attendance and Hours
Bots enable employees' work schedules to be managed brilliantly by sending them automated reminders. It also ensure managing their attendance and work hours in the centralized system for easy salary processing.
Ensuring Home Connectivity for Optimum Network
Armed with all employee's postcodes, bots can seamlessly monitor the available home broadband along with the 4G connectivity in the area to compare them with their salary, suggesting compensation. Enterprises can then recommend and allow upgrades for their employees, ensuring better services.
Arranging Meet and Greet with Colleagues
Catching up with the team over coffee is an exceptional way to promote team cohesion during the restrictions of working from home – and it's easily automated. Automation and RPA enable the team leaders to select the participants and define the duration of the meeting. Moreover, the bots then check the participants' calendars, select available timeslots for everyone, and schedule subsequent meetings automatically over Zoom.
Sending MOMs and Reminders
As many teams transitioned to remote work, professionals have slowly learned to adapt to each other's work-from-home schedules—coping with the distraction of spouses, kids, and pets. This means it's more critical than ever to ensure meeting notes are being shared in case someone has to drop out in the middle of a call or is struggling with network issues. Robots can automatically take down the typed-up notes and send them via email to everyone on the calendar invite.
Systematic Task Management
During the remote working culture, it is hard to prioritize the tasks if you don't have a great grasp of what work you have to do. That's why automated task management systems are critical for remote work productivity. Teams have their own way of tracking work, and such software is very well coordinated to assure zero miss-outs. So no more covering your desk in post-its or installing a series of black or whiteboards; save it all in your system itself.
Finally, remote working has altered the nature of the workplace. As sociologists and corporations debate the benefits and drawbacks, as well as the impact on society and the business community, an increasing number of people around the world are working from home. If you're one of those folks, follow these work-from-home suggestions and prioritize well to make working from home a success.
Also Read: What Problems Does Artificial Intelligence Avoid In The Human Resources Area