A Hybrid Work Model The New Trend In Companies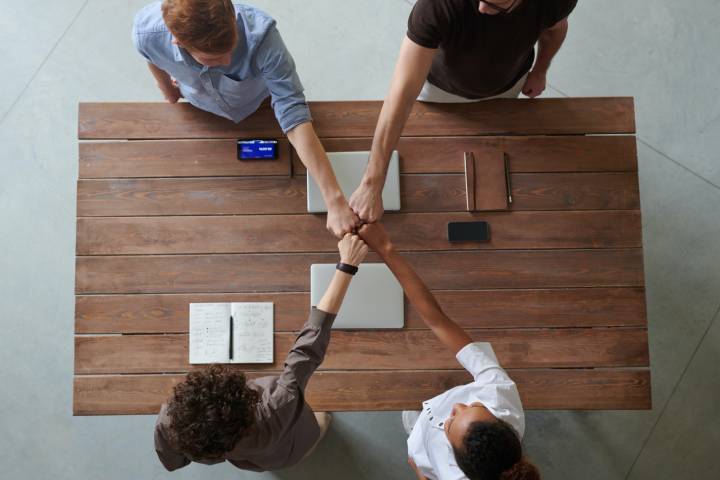 The fear of a loss of productivity due to not having their employees controlled to the millimeter. However, the arrival of the coronavirus pandemic changed the rules: now it was companies that sent their employees to work at home, but without prior notice, without planning, with the mere intention of being able to survive. Teleworking had come the hard way but against all expectations.
True, some jobs cannot be developed remotely, but others for which have to work in an office is a delay. Of course, companies did it without a margin of time and, above all, without providing their workers with the necessary tools, which has resulted in many of them now asking for a hybrid work model.
What Does The Hybrid Work Model
You've probably been hearing about the hybrid work model for weeks, even months. So that we understand each other, it is a way of working that combines teleworking with face-to-face work. In other words, companies allow their employees to work between two and three working days from their homes, while the rest of the hours stipulated in their contract must be performed in the workplace provided by the company.
It is, without a doubt, the closest thing to a Solomonic solution, but it is the one that seems to be satisfying the majority. It allows employees to reconcile work and personal life much more than before while saving time and money on travel. For their part, companies cover their control quota, that without which it seems they cannot exist, although the truth is that they should not waste the door that has been opened towards a future of total teleworking. After all, hybrid work is nothing more than a middle way to save the furniture and not give up entirely before some employees who, for the most part, are more comfortable than ever.
They say that you always have to stay with the good side of things, so in this case, we are left with the hybrid work model that is the first step towards a much more open-minded attitude. And towards a work future in which technology will make us live much better and more comfortable. It will take time and effort, but if we can do precisely the same in an office in the city as in a balcony overlooking the beach, a house in the mountains, or a motorhome while we discover the secrets of the Portuguese coast.
What Kind Of Companies Adopt It
As we have already said, not all sectors can afford to telecommute their employees. Some tasks must be carried out in people, such as production or the services sector, but there is no problem with others, but it is highly recommended to allow a particular wide sleeve with the hybrid work model.
We are talking about professions related to communication, marketing, or technology. Today the computers we have and the internet speeds that home networks reach allow us to connect better even in a physical office. Meetings, preparation of projects, and even presentations to clients are much more enjoyable and efficient with each person in the place where they are most comfortable. It seems that these types of companies have finally seen it.
What is not normal (although it is understandable by the height of view) is that companies such as Amazon, Apple, or IBM have known how to see that the implementation of the hybrid telework model is tremendously beneficial for all parties and that an SME is not able to apply it. True, a small business depends a lot more on results than one of the monsters we have mentioned a few lines above, but the only way to grow is to imitate the best in our industry as much as possible!
Long-Term Trends In The Labor Market 
Although many companies were filled with the saying that 'teleworking had come to stay, many of them decided to back down as soon as the coronavirus pandemic left them. Be careful, not because of bad results, but because of insecurity. Fortunately, a high percentage of them valued implementing a hybrid teleworking model as an intermediate solution.
As we have read, just over 60% of companies, despite ruling out working at home full time, are willing to implement a system with some hours of teleworking and others of work in the office. Almost a quarter would be ready to make workers go to the office for just one day to carry out specific tasks there, and the other six could be wherever they wanted! The hybrid telework model seems to be the preferred model between now and 2025, at which time companies, already with more planning, should begin to consider teleworking seriously.