Crypto Trading – Which Cryptocurrencies To Choose? How To Do?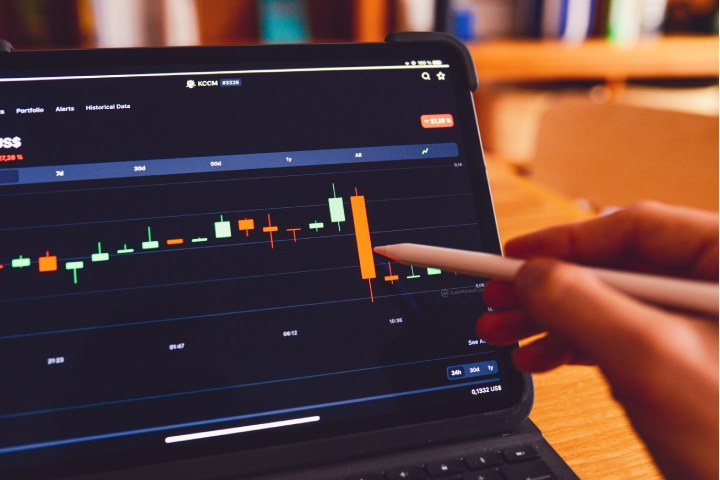 The world of cryptocurrencies is booming, and online trading of these digital currencies is becoming increasingly widespread. What was once considered science fiction has allowed early adventurers to reap huge gains. Cryptocurrencies have become very volatile financial assets whose future is sometimes uncertain. With high potential returns, it's hard to ignore them. However, it is essential to point out that investing in cryptocurrencies is very risky. We recommend exercising caution and not devoting more than 10 to 15% of your investments to it.
What Are Cryptocurrencies?
Cryptocurrencies are digital currencies, similar to the dollar and the euro, but unlike the latter, they are not physical. They have enabled the Internet of Value, also known as the Internet of Money, a system for exchanging goods, contracts, and even intellectual property in the form of cryptocurrencies.
Trading cryptocurrencies is an essential aspect of using them. It allows you to buy and sell cryptocurrencies as you would with stocks. Cryptocurrency trading can be done manually or automatically through cryptocurrency auto-trading tools. Trading applications also offer a platform to buy, sell and exchange cryptocurrencies, such as Binance.
Features And Benefits of Cryptocurrencies
When cryptocurrencies first emerged in 2009 with the creation of Bitcoin, few could have predicted the meteoric rise they experienced in the investment world. Indeed, these digital currencies have unique characteristics that give them many advantages over traditional currencies.
However, it is essential to note that investing in cryptocurrencies is not without risk. Due to their volatility and lack of regulation, providing more detail on the risks associated with their use is essential. However, this should not overshadow the considerable advantages they offer.
Among the advantages of cryptocurrencies, their speed of execution is undoubtedly one of the most remarkable. While traditional online payments can take several days, cryptocurrency transactions are cleared within minutes. This speed is enabled by blockchain technology, which is the foundation on which all cryptocurrencies are built.
Blockchain is a decentralized technology that allows thousands of nodes to verify and validate each transaction. This decentralized architecture provides significant security, as data is stored on multiple computers and is much more challenging to hack.
In addition, cryptocurrencies can be used in many scenarios, such as online payments, international transactions, or fast and inexpensive money transfers. Some cryptocurrencies were even created to meet specific needs, such as crowdfunding or investing in social impact projects.
Nevertheless, it is essential to remember that cryptocurrencies have potential drawbacks, such as their volatility and lack of regulation. Therefore, Investors should be aware of the risks associated with these digital currencies and make informed investment decisions based on risk tolerance.
In summary, cryptocurrencies have many advantages over traditional currencies, especially in terms of transaction speed and security. However, these benefits should not mask the risks associated with their use, and investors should make informed investment decisions based on risk tolerance.
What Is Crypto Trading?
The Bitcoin cryptocurrency: A reference for all others
Created in 2009 by an anonymous developer called Satoshi Nakamoto, Bitcoin is the first and best-known cryptocurrency. Used as a benchmark for determining the value of other cryptocurrencies, it relies on a proof-of-work system where networks of computers called miners validate transactions.
Ethereum: A platform for smart contracts
Ethereum, or Ether, is a decentralized cryptocurrency based on the blockchain model. Its particularity is to allow the realization of smart contracts between peers, thanks to an open-source platform that provides a cryptocurrency token called Ether. Trading in this cryptocurrency is currently booming.
Ripple: A decentralized mutual bank
The Ripple protocol is built as a decentralized mutual bank based on the use of free software. The network nodes function as local exchange systems, allowing the formation of a credit system based on a network-to-network or peer-to-peer paradigm.
Bitcoin Cash: An alternative to Bitcoin
Bitcoin Cash (BCH) is an alternative cryptocurrency to Bitcoin, which emerged in 2017 following a planned fork to increase the chain's capacity. This bifurcation resulted in the creation of two differentiated and coexisting blockchains.
If you are interested in cryptocurrency trading, you will need two key things: an electronic wallet to store your cryptocurrencies and one or two cryptocurrencies to carry out your transactions. Choosing a safe company to invest in cryptocurrencies with a good reputation and solid guarantees is essential. If you are a beginner, it is recommended to use known cryptocurrencies. The 100 most used cryptocurrencies are a good starting point. Among these, Bitcoin and Ethereum are safe bets.
Cryptocurrency trading, therefore, requires management and decision-making skills. This is why students with an MBA in Trading – Market Finance are especially recommended.
How To Get Started in Crypto Trading?
Crypto-trading has become increasingly popular in recent years. Here are some steps if you are interested in this activity but need help knowing where to start.
Please do your research: Before you start trading, it's essential to have a good understanding of cryptocurrencies, how they work, and trading in general. You can find information about different cryptocurrencies and trading platforms online.
Choose a trading platform: Many crypto trading platforms are available online, so it is essential to research and choose a secure and reliable platform to avoid scams and scams.
Open an account: Once you have chosen a trading platform, you must open one. The registration process may vary from platform to platform, but you will usually be required to provide personal information such as your name, email address, and phone number.
Verify your identity: Most crypto trading platforms require you to verify your identity before you can start trading. You may need to provide a valid ID and proof of residency.
Deposit funds: Once you have opened an account and verified your identity, you can deposit funds into your trading account. Deposit methods can vary from platform to platform, but common options include credit cards, bank transfers, and e-wallets.
Start trading: Once you have deposited funds into your trading account, you can start trading. Follow market trends and understand the risks associated with cryptocurrency trading.
It is essential to remember that cryptocurrency trading is a volatile and risky market, so it is crucial never to invest more than you can afford to lose.
Suppose you are thinking of getting into cryptocurrency trading. In that case, it is also useful to know that it offers advantages such as reduced costs since transactions no longer require the intervention of expensive intermediaries. There is also greater autonomy in exchanges, as cryptocurrency transactions no longer require the intervention of financial agents to be carried out.
Additionally, if you are interested in trading cryptocurrency as a professional, consider earning an MBA in Auditing and Management Control. This can give you the skills and knowledge to succeed in this business. domain. There are currently over 800 cryptocurrencies on the market, but some are better known and safer than others.
In conclusion, cryptocurrency trading is an exciting way to diversify your investment portfolio and earn profits. However, it is important to understand the risks associated with crypto trading and the different strategies and tools available to help you make informed decisions. By following the steps outlined in this article, you should be able to start trading cryptocurrencies more confidently and effectively. Remember to exercise caution and never invest more than you can afford to lose.
Also Read: How To Generate Leads Online?