Ways To Share Images Without Sacrificing Their Quality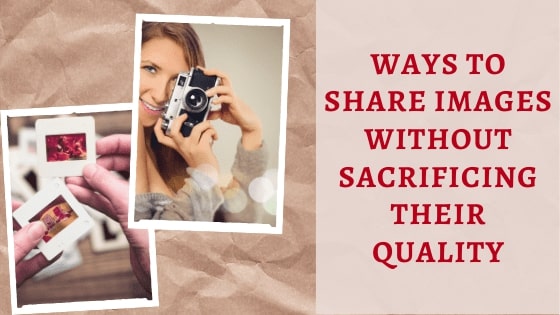 Every now and then we come across pictures that we want to share with our friends and family. But while sharing these images have you ever noticed that the high-quality captures have been reduced to blurry ones?
This drop in quality is caused when, while sharing, different apps reduce the pixels of an image. To ensure that you are able to share high-quality pictures with your friends and family, follow any of these simple methods, given below:
Google Photos
Google Photos is a great solution if you want a quick and simple method to share pictures without compromising the resolution. You can sign in with your Google account on any device to access the images you have uploaded onto Google photos.
The interface also has an option that enables you to sync your device to Google photos so that all your images are automatically uploaded to it. Now, you can then easily share the images by sending someone the link of the pictures or by accessing your account on their device. Do make sure that you are sharing the images only with the people you want to share them with and not your entire google circle.
AirDrop
While Google Photos is more popular amongst Android users, iOS users prefer to use the AirDrop feature. It works in a similar way as that of Google photos. If you want to share an image, simply ask the person you want to share it with to turn on the AirDrop app on their iOS device. This creates a kind of Bluetooth connection that allows you to share the image on their screens.
However, this app is a bit problematic as when you turn on the Drop app, anyone near you will be able to send pictures onto your device.
Facebook's Moments App
This app is developed by the Facebook team and is similar to how you share pictures on Facebook. The only difference is that this app allows you to share pictures with your friends without losing the quality of the pictures. Despite this, the app failed as the recipient also has to install the app on their device and that is a problem for people with limited device storage.
Microsoft OneDrive
Microsoft OneDrive is a cloud storage platform that comes along with the office package. You will be able to access 5GB of storage for free. When the storage is filled, you will have to pay some amount to get access to more cloud storage.
You can share pictures by uploading them from your device to your OneDrive account and then sending a link to your friends that enable them to access the images. This space can also be used as personal storage for your pictures.
Amazon Drive
Just like OneDrive, Amazon Drive also comes with free cloud storage of 5GB. You can share high-resolution images with your circle without the fear of losing the quality of the image. Not only that, but Amazon Drive also allows you to create and share folders of your images and has amazing photo printing features. It also offers a strong cloud backup.
Apple's iCloud
iCloud also offers 5GB of free cloud storage for one account, exhausting which you can access additional storage for a fee. You can easily backup the images on any of your iOS devices and access them from anywhere.
iCloud allows you to share the images you have uploaded with your friends and family. The iCloud service, however, can be used only by iOS users, so both, the sender and the recipient, should be having an iOS-enabled device.
PDF files
PDF, or Portable Document Format, files are not the first thing that comes to our mind when one thinks about sharing a picture as they are often related to text documents. However, PDF files are an excellent way of sharing images with someone as they exactly replicate the file you want to share.
Also, PDF images are customizable, thus you can easily export them, and edit them. When sharing your images as a pdf file, you can be assured that the recipient will get an exact copy with the same resolution. So start converting your jpg files into pdf and share them with the highest quality possible.
The next time you want to share an image with your friends or family, make sure that you use one of the above methods to ensure that the quality of the picture you are sharing remains intact.