How to Automate Home Appliances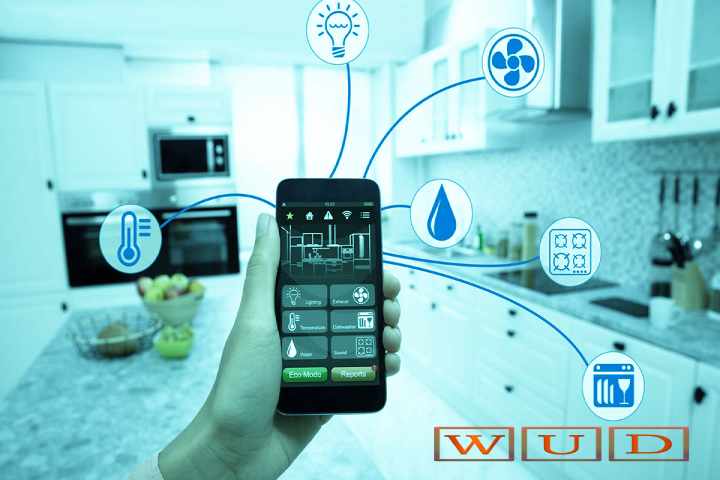 Life at home should be easy, right? That's the purpose of smart home devices and appliances. Whether it's Lutron shades, automated lights, robot vacuums, or front door locks controlled from your phone, smart home technology is making our home life more convenient (and fun) than ever before.
Without a doubt, smart home technology is on the rise. According to recent reports, there are currently over 42.2 smart homes in the United States alone, and by 2021, almost 30 percent of households will have at least one smart device. As this technology becomes more sophisticated and affordable, these numbers stand to only grow.
Smart lighting and security systems have garnered a lot of attention in the smart home industry and many may not realize how even the simplest of home appliances are becoming digitally enhanced and "smart." To see just how vast and impressive smart home technology has come, we're taking a closer look at smart home appliances and ways to fully automate your home.
WHAT ARE SOME WAYS TO AUTOMATE YOUR HOME?
With the wide variety of smart home devices, there are so many innovative and creative ways to automate your home. Some devices, like a robot vacuum, are relatively straightforward with what they can do. On the other end of the spectrum, there are entire home automation systems, such as Control4, that control an entire home filled with smart appliances and devices. To give you a taste of what home automation can do, here are just a few ways you can catch up to the 21st century by automating your home:
Set your locks to open for family and friends
Schedule your smart vacuum for daily cleanings
Automate your thermometer to adjust and save on energy costs
Schedule your lights to turn on, off, or dim in any room
Automate your garage door
See who's at your front door with a two-way intercom or webcam
AUTOMATED HOME APPLIANCES
It's not just our phones, watches, and computers that are digitally connected and smart these days. With advancing, and more cost-effective, technology, almost any appliances in your home can become automated. To show you just what's out there, here are just some of the many automated home appliances to help modernize your home.
SMART REFRIGERATOR
These days, refrigerators are doing so much more than keeping your snacks cool. What exactly can a smart refrigerator do? These new smart devices can tell you if the door has been left open or if there's a sudden change in temperature, so you don't lose a fridge full of food.
Have you ever gotten to the grocery store and forgot whether or not you needed eggs? With a smart refrigerator, this concern becomes a thing of the past as many refrigerators now have webcams that can link with your smartphone to show you just what you already have at home.
SMART OVEN
A staple in every kitchen, ovens are now smarter than ever before. Many smart ovens are fully programmable and you can even check the progress of your roast from an app on your phone. Some even come with a selection of recipes already downloaded into the system.
SMART FAUCETS
Tired of burning your hand under a water faucet? With a digital faucet, you can start or stop the flow of water with just the tap of a button and a light ring indicates the changes in temperature. You can also save your temperature settings so future use.
SMART THERMOSTATS
Studies show that heating and air conditioning account for roughly a third of electricity costs in the average home. Depending on where you live, your electricity bill can quickly add up. Smart thermostats are designed to save you money and electricity by adjusting to external temperatures. You can even program your thermostat to automatically shut the heat or air off when you leave the house. With this technology, you won't just save on your monthly bills, but you'll also use less energy, which, in light of the effects of climate change, is more important than ever before.
ROBOT VACUUMS
Put that traditional vacuum away and let one of the new high-tech automated vacuums take over. These smart devices, like iRobot Roomba, use cameras and sensors to navigate and gradually learn the layout of your home over time. With a robot vacuum, cleaning the house has never been so fun.
SMART TOASTERS
Who could forget the reliable toaster? While this home appliance might seem like a relatively simple technology, digital technology has made them even better. Smart toasters feature touchscreen technology and sensors that heat up your toast, muffins, or bagels to perfection.
Also Read: The Importance Of Wi-Fi Security In Protecting Your Network
SMART COFFEE MACHINES
Who doesn't want to wake up to the smell of brewing coffee? Smart coffee machines can be programmed to begin brewing at a specific time and can even link up with voice assistant technology.
HOME AUTOMATION MADE EASY
If you just can't get enough of smart home technology, you may quickly find your home has become a labyrinth of switches, controls, and apps on your phone. Many might stop to think: wasn't home automation supposed to make my life easier?
This is why many people, in addition to linking up their favorite smart devices, also invest in complete home automation systems, such as Savant or Control4. These systems allow you to control every smart device in your home from one central control system.
Most even have an app that can be accessed from your computer or phone so that you can have complete control over your home from anywhere in the world. Worrying about leaving the oven or the lights on will become a thing of the past with a fully synced up and smart home automation system.
CONCLUSION – HOW TO AUTOMATE HOME APPLIANCES
Home automation is all about making your life at home more convenient, accessible, and enjoyable. Whether you're just installing smart lights or a voice assistant, like Amazon's Alexa, or an entire home automation system, you're sure to love the high-tech sophistication and convenience of smart home technology.