Share Other Blocked On Instagram – How It Works?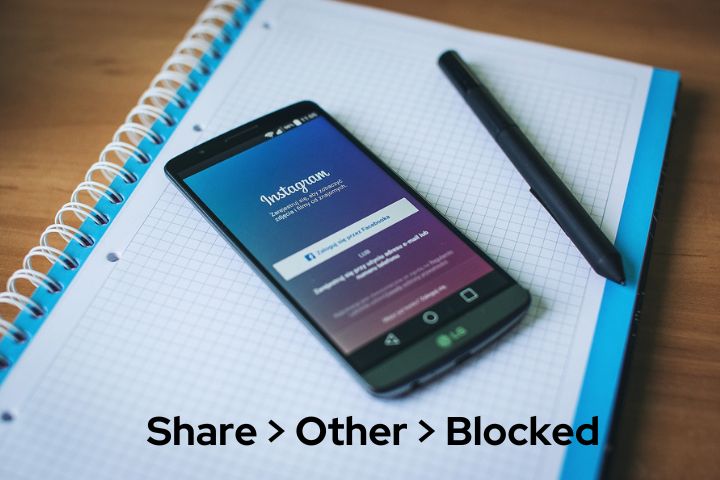 Instagram is a popular social media platform that is used by everyone across the world. From children who know how to handle smartphones to old age people, everyone is using this photo and video sharing platform. The people who have more followers and create unique content on this platform are called influencers. These people are earning a huge sum by promotions. These days social media have both advantages and disadvantages. People will block the persons who are disturbing them or whom they do not want to communicate with. There is a myth that Share Other Blocked is an Instagram feature that helps to view the people who block you. Let's discuss this feature in this article and find out the real truth.
What Is Share Other Blocked On Instagram?
According to some people there is a feature on Instagram where we can see the people who blocked us by the option Share Other Blocked.
Share > Other > Blocked is the pattern where we can find this Instagram feature. We have checked it but there is no such option available. Actually the biggest joke is that there is no option like "other" on instagram.
When some creators shared about this feature in their posts and stories they got many likes and thousands of comments. Almost all the comments are saying that they cannot find this feature and all these are false claims. And there is also no official confirmation about this feature by Instagram. So this is fake news spread by some members and creators.
Top Methods To Find Weather You Are Blocked By Someone On Instagram
Do not worry about the Share Other Blocked Instagram feature, there are many other ways to check if someone blocked you in the Instagram platform. Below are some of them
If you search their surname in the search box you will be able to find it if the person had blocked you.

If a person blocks you then you cannot send messages to him. And you cannot post comments under his posts.

If the person's account is showing in your friend's instagram and not showing in your account then you are blocked.

In a group chat if you are unable to access the person's profile then you can assume that you have been blocked by that person.

You cannot mention the person if they blocked you.
How To See Your Blocked List On Instagram?
If you want to see the blocked accounts by you then you need to follow the below steps
Go to your profile.
Click on the hamburger menu on the top right corner.
Click on settings and privacy.
Then click on the Blocked option.
Now you can see the blocked list by you.
Conclusion
From this article we have come to a conclusion that there is no option or feature like Share Other Blocked on Instagram, that is just a marketing or publicity stunt carried out by some creators on Instagram. You can easily find out the people that blocked you by following the methods we mentioned in our article. There are many reasons why a person will block another person. It will be like security issues, disturbances etc.
Also Read: Why It Is Important To Get More Reach On Instagram